Posts for tag: teeth whitening
By Dr. Vincent A Grosso, II
November 30, 2021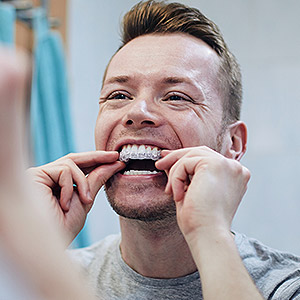 Are your stained teeth bumming you out? There's good news—you can transform that dull and dingy smile yourself with a tooth whitening product.
There are dozens of over-the-counter whitening kits that allow you to brighten your own smile. Although not as controlled and long-lasting as a dentist's professional whitening, these DIY kits can still give you effective results.
But since these products involve chemical solutions that bleach tooth enamel, there's a common concern about their safety. Could you be harming your teeth by using a home whitening kit?
The answer is no—as long as you follow the manufacturer's directions for using the product. These kits have been formulated with a lower percentage of bleaching agent (usually 10% carbamide peroxide) than whitening solutions used by dentists. They've also been subjected to several clinical studies gauging both their effectiveness and safety.
That said, though, exceeding a product's recommended directions and frequency of use could cause you problems. If not used properly, a bleaching solution can erode tooth enamel—and this protective tooth layer doesn't grow back! As long as you whiten "within the lines," so to speak, you shouldn't encounter this kind of situation.
With that said, though, there are good reasons to consult your dentist before using a whitening product, or have them perform the whitening for you.
For one thing, an over-the-counter whitening product won't work if the staining originates from inside a tooth. It's wise, then, to have a dental examination first before using a whitening product to uncover this or any other underlying dental problems that should be addressed first.
You may also find a professional whitening will give you a more desirable result. A stronger professional bleaching solution under a dentist's expert control can produce a brighter, longer lasting smile than a home use product. A dentist may also be able to control the level of brightness better to help you achieve the smile effect you desire, from subtle white to ultra-bright.
Whichever way you go, your dentist can advise you on your options and make sure your teeth are in good shape for whitening. The end result can be a brighter smile—and a brighter mood.
If you would like more information on teeth whitening, please contact us or schedule an appointment for a consultation. You can also learn more about this topic by reading the Dear Doctor magazine article "Tooth Whitening Safety Tips."
By Dr. Vincent A Grosso, II
December 09, 2018
Home whitening kits are a popular way to turn a dull smile into a dazzling one. But these self-applied products only work for teeth with outer enamel stains — if the discoloration originates inside a tooth, you'll need professional treatment.
Known as "intrinsic staining," this type of discoloration most often occurs within a tooth's pulp or dentin layers. There are a number of causes like tooth trauma or tetracycline use at an early age. A root canal treatment used to remove infection from deep within a tooth can also cause discoloration: sometimes blood pigments left after tissue removal or the filling materials themselves can stain a tooth's interior.
Intrinsic staining can often be treated by placing a bleaching agent, usually sodium perborate, into the tooth's pulp chamber. But before undertaking this procedure on a tooth that's undergone a root canal treatment, we want to first ensure the filling is intact and still adequately sealing the tooth from infection. We also want to make sure the supporting bone is also healthy.
If all's well, we access the pulp in the same way as the root canal treatment, and preferably through the same access hole. We then clean out the pulp chamber of any stained matter and then ensure the root canals remain filled and sealed off from the pulp chamber.
We can then place the bleaching agent into the pulp, a process that will need to be repeated every three or four days to achieve the desired level of brightness. After each session we place a cotton pellet over the opening and held in place with a temporary adhesive; we can easily remove and re-apply this covering during subsequent sessions. Once we've achieved the desired color change, we seal the tooth with a permanent filling and restore the access cavity with a tooth-colored composite resin material bonded to the enamel and dentin.
There are other options for an intrinsically stained tooth like veneers or crowns that outwardly cover the discoloration. Internal bleaching, however, is a more conservative approach that causes less alteration of the tooth. If successful, it can restore a stained tooth to a brighter, more attractive shade.
If you would like more information on internal bleaching, please contact us or schedule an appointment for a consultation. You can also learn more about this topic by reading the Dear Doctor magazine article "Whitening Traumatized Teeth."