Posts for tag: dental injuries
By Dr. Vincent A Grosso, II
September 11, 2021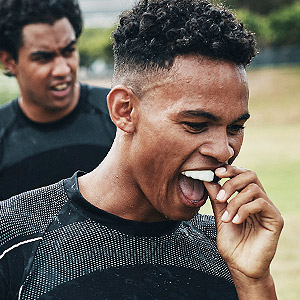 Disasters are an unfortunate part of life—and not just on the epic scale of a hurricane, flood or earthquake. You could easily find yourself having your own "personal pizza"-sized disaster—a car accident, a sports injury or even a tumble on a leisurely hike. And oftentimes, the consequences could affect your mouth, teeth or jaws.
We can't always account for every variable in life, but we can prepare for possible disasters, big or small. That includes being ready for a possible dental injury.
September is National Preparedness Month, when safety and emergency professionals seek to raise awareness about what people can do to prepare for when disaster strikes. When it comes to protecting you and your family's oral health, here are a few things you can do to stop or lessen the impact of a dental injury.
Use a mouthguard. These soft, plastic appliances that fit in the mouth cushion the force of a hard blow to the face and jaws. They're a must for any contact sport like football or basketball, but also for other outdoor activities like trail biking. It's also worth the investment in comfort and effectiveness to have your dentist create a mouthguard customized just for you.
Create a dental first aid kit. It's a good idea to carry along a first aid kit during sports or other physical activities. It's a great idea to include a few extra items in case of injuries to the teeth or gums. A dental mirror and flashlight, medical-grade gloves, "Save a Tooth" kits (for knocked out teeth) or even tea bags to help stop bleeding gums are handy to have if you or someone with you suffers a dental-related injury.
Know what to do in case of dental injury. As careful as you might be, you can't completely eliminate the risk of dental injury, so it's wise to know how to render specific first aid for a variety of mouth-related injuries. To that end, we've provided a free dental injury field guide that you can print to review or to include in your emergency first aid kit.
Locate dental providers away from home. Serious injuries that result in loose, knocked out or misaligned teeth need immediate dental care. No problem if your regular dentist is close at hand—but what if you're out of town or on vacation? Before you go, locate a dental provider at your destination that you can see in case of emergency, and keep their contact information close at hand.
It's no fun going through an adverse event, especially with the possibility of injury. It's even worse to meet disaster unprepared. By following these guidelines, you can have a better handle on the injury risks to you and your family's dental health.
If you would like more information about protecting your teeth from injury, please contact us or schedule a consultation. To learn more, read the Dear Doctor magazine article "An Introduction to Sports Injuries & Dentistry."
By Dr. Vincent A Grosso, II
June 02, 2021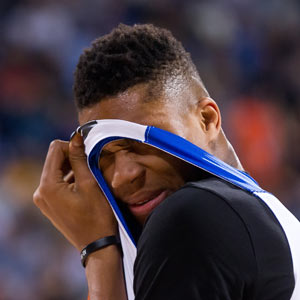 The NBA's reigning MVP Giannis Antetokounmpo may seem unstoppable, but he proved no match for a troubled tooth. Antetokounmpo, the self-proclaimed "Greek Freak," missed one of the final three 2020 regular season games for a dental issue that resulted in last-minute oral surgery. According to a Milwaukee Bucks spokesperson, the star underwent "a root-canal like procedure."
Root canal therapy, often simply called "a root canal," may be needed when there is an infection inside the tooth. When dental pulp becomes inflamed or infected, excruciating pain can result. Pulp is the soft tissue that fills the inside of the tooth. It is made up of nerves, blood vessels and connective tissue. During root canal treatment, the pulp is removed, the space inside the tooth is disinfected, it is filled with a special material, and then the hole is sealed up.
A root canal is nothing to fear. It relieves pain by getting rid of infection and is so effective that over 15 million of them are performed in the U.S. each year. This routine procedure generally requires only local anesthetic, and your mouth should be back to normal within a day or two after treatment. Antetokounmpo can attest to that, as he returned to play the next day.
However, delaying root canal treatment when you need it can have serious consequences. If left untreated, an infection inside the tooth continues to spread, and it may move into the gums and jaw and cause other problems in the body. So, how do you know if you may need a root canal? Here are some signs:
Lingering sensitivity to hot or cold temperatures. One sign of nerve damage inside your tooth is pain that is still there 30 seconds after eating or drinking something hot or cold.
Intense pain when biting down. You may feel pain deep within your tooth, or in your jaw, face or other teeth. The pain may be hard to pinpoint—and even if it improves at times, it usually comes back.
A chipped, cracked or discolored tooth. A chip or crack can allow bacteria to enter the tooth, and the tooth may darken if the tissue inside is damaged.
A pimple on the gum. A bump or pimple on the gum that doesn't go away or keeps coming back may signify that a nearby tooth is infected.
Tender, swollen gums. Swollen gums may indicate an infection inside the tooth or the need for periodontal treatment.
And sometimes there is no pain, but an infection may be discovered during a dental exam.
Tooth pain should never be ignored, so don't put off a dental visit when you have a toothache. In fact, if a bad toothache goes away, it could mean that the nerves inside the tooth have died, but the infection may still be raging. Also, be sure to keep up with your regular dental checkups. We may spot a small problem that can be addressed before it becomes a bigger problem that would require more extensive treatment.
Remember, for dental issues both large and small, we're on your team! If you would like more information about tooth pain, please contact us or schedule a consultation. To learn more, read the Dear Doctor magazine articles "Tooth Pain? Don't Wait!" and "Root Canal Treatment: What You Need to Know."
By Dr. Vincent A Grosso, II
August 15, 2017
Once they learn to walk, there's no stopping most children. Sometimes it can be a little jarring, as when you discover your toddler on top of the kitchen counter reaching in the cupboard on tip-toes for a snack!
Fortunately, children are fairly resilient. Unfortunately, they're not invincible — some of their adventures could result in physical injuries, especially to the highly vulnerable area of the mouth.
Even if you've carefully "child-proofed" your home, it's still best to be prepared for mishaps. Here are 3 common dental injuries and how to handle them.
Soft tissue injuries. Making contact with the ground or hard objects like furniture can injure the lips, tongue, cheeks or gums and cause bleeding, cuts or bruising. First, clean the area with clean water and a cloth or gauze as best you can, making sure there aren't any trapped pieces of tooth or dirt. Apply gentle, continuous pressure with a clean cloth to control bleeding, and apply ice packs or cold compresses for swelling. Don't apply bleach, aspirin or similar medications to open wounds. If the bleeding won't stop or the wounds look serious or deep, go to an emergency room.
Chipped or displaced tooth. A blunt force mouth injury can chip or push (displace) teeth out of position. In this case try to save any chipped pieces you find — your dentist may be able to re-bond them to the tooth. A displaced tooth is a dental emergency, so contact your dentist immediately. Don't try to re-position the tooth yourself unless it's completely knocked out.
Knocked-out tooth. Actions to take with a knocked-out tooth depend on whether it's a permanent or primary (baby) tooth. If permanent, rinse the tooth with clean water. Handle it by the crown (never by the root) and gently place it back in the empty socket. If that's not possible, place the tooth between your child's cheek and gum (if the child is old enough not to swallow it by mistake. You can also place it in a glass of cold milk. Get to a dentist or an emergency room as soon as possible — minutes count for a successful reattachment. Conversely, don't try to put a primary tooth back in its socket — you could damage the developing permanent tooth beneath the gum line. But do see a dentist as soon as possible for an examination.
If you would like more information on responding to mouth injuries in children, please contact us or schedule an appointment for a consultation.