Posts for: December, 2021
By Dr. Vincent A Grosso, II
December 14, 2021
Dr. Vincent Grosso is here to help the residents of his community with all of their dental needs. If you require root canal treatment in Kissimmee, Fl, look no further!
Let's Take a Closer Look
Dr. Grosso is very experienced with root canal treatment in Kissimmee, Fl, and can work with you to ensure that your procedure is successful, every step of the way. Let's look at what a root canal procedure entails:
We start out with an x-ray to get a close look at the situation and determine how best to proceed. From there, we will apply anesthesia to numb the area that we will be working on. Next, the tooth is isolated so that it can be worked on without affecting the surrounding teeth. The space is opened and cleaned. Once the root area has been prepared, it is filled.
Typically, the filling used for a root canal procedure is an adhesive cement that is compatible with your body. Once the root canal is completed and the area is capped, you will be finished with the first part of the procedure. An additional appointment will be necessary to install a crown over the affected tooth.
Because of advancements in technology, a root canal is no longer the painful and complex procedure it used to be. There is no reason to delay getting this procedure when it is necessary. In fact, by putting off your root canal, you may make the situation worse. Dr. Grosso can answer any questions that you may have and address your concerns so that you can get the treatment you need. Many patients report total relief following their root canals, so the sooner the better to have yours done!
Find Out More Today!
If you need root canal treatment in Kissimmee, Fl it's time to call Dr. Grosso at (407) 350-5969. Our team is here to help you get the treatment you need and enjoy a lifetime of good dental health!
By Dr. Vincent A Grosso, II
December 10, 2021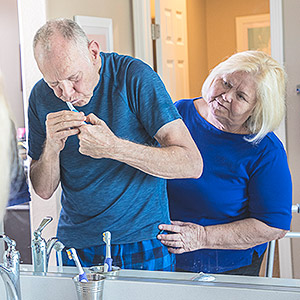 According to the World Health Organization, more than 1 billion people around the world have a disability. That's one in eight individuals of all ages who may need assistance managing their daily lives. One area in particular that often requires caregiver attention is oral health, which isn't always easy.
Depending on the disability, addressing a disabled individual's health needs can be overwhelming—and such concerns may be even greater now due to COVID 19. In light of all these and other pressing issues, caring for a disabled person's teeth and gums could easily take a back seat.
But oral health has a far greater impact on a person's health than just their mouth. Inflammation related to gum disease, for example, could worsen other systemic diseases like diabetes or heart disease. And, unhealthy (or missing) teeth could inhibit a person in meeting their nutritional needs.
But you can effectively manage their oral health by keeping your focus on a few principal items related to dental care. In recognition of International Day of People with Disabilities this December 3rd, here are some practical guidelines for ensuring your friend or family member maintains their oral health.
Stay consistent with daily hygiene. Brushing and flossing can be very effective toward preventing dental disease, but only if it's consistently practiced every day. Someone with a disability may need help maintaining that consistency, so be sure you set a regular time and place for them to brush and floss to help reinforce the habit.
Make brushing and flossing easier. These twin hygiene tasks may also pose challenges for a disabled person who has issues with physical dexterity or cognitive function. You can help ease those challenges by making sure they have the best tools to help them perform the task at hand, like large-handled brushes, flossing picks or water flossers.
Brush and floss together. For some individuals with a disability, a caregiver may need to perform their hygiene tasks for them. But even if they're able to do it for themselves, it may still be overwhelming for them on their own. In that case, brushing and flossing with them, and injecting a little fun into the activity, can help positively reinforce the habit for them.
Accompany them to the dentist. If you're heavily involved in a disabled person's daily oral care, you may want to go with them and sit in on their regular dental visits. This is a time when you and their dentist can "exchange notes," so to speak, to better be in sync with what needs to be done to improve your loved one's oral care.
If you would like more information about disabilities and oral care, please contact us or schedule a consultation. To learn more, read the Dear Doctor magazine article "Aging & Dental Health."