Posts for: September, 2018
By Dr. Vincent A Grosso, II
September 20, 2018
We don't often think about it, but eating is a multi-staged process. It starts, of course, with food that's hopefully high in nutritional value. But you also need coordinated jaw action to chew and shred your food that when combined with the enzymes in saliva can then be effectively digested in the stomach.
But what if you're unable to chew some foods because you suffer from chronic jaw pain and dysfunction? This is the situation for millions of people who suffer from problems associated with the jaw joints—temporomandibular joint disorders (TMD). It's not just the chronic pain and discomfort TMD can cause that's a real issue—it may also be preventing you from eating foods that are healthy for you.
Because TMD can make it difficult to open your jaws wide or causes pain when you bite down, you might especially have trouble with certain fruits and vegetables as well as many meats. Many people opt to skip otherwise healthy foods because they're too difficult to eat. That, however, could lead to lack of proper nutrition in the long run.
But with a few techniques and modifications, you can still include many of these foods in your diet even when TMD discomfort flares up. For one, be sure to cut all your food portions (including toast) into small, bite-sized pieces. These should be small enough to limit the amount of jaw opening required to comfortably place the bite in your mouth and chew. When preparing your food, be sure to peel fruits and vegetables that have skin, which is often hard to chew.
You should also try cooking crisper fruits and vegetables to a soft, moist texture. Choose meat cuts, poultry or seafood that can be cooked to a tender, moist consistency—you can also use gravies and sauces to further moisten them.
And don't forget to chew slowly. Not only does slower eating aid in digestion, it will help you avoid overworking your jaw joints.
With a few adjustments you can have a normal, nutritious diet and minimize the discomfort of your TMD symptoms. Continual healthy eating is a must for overall health and quality of life.
If you would like more information on reducing the impact of TMD on your life and health, please contact us or schedule an appointment for a consultation. You can also learn more about this topic by reading the Dear Doctor magazine article "What to Eat When TMJ Pain Flares Up."
By Dr. Vincent A Grosso, II
September 10, 2018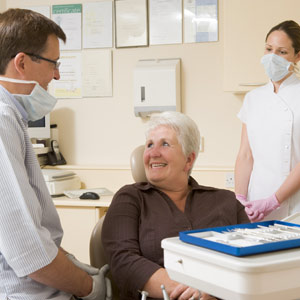 Implants are highly regarded by both dentists and patients for their versatility and durability. But it's their life-like appearance that "seals the deal" as the restoration of choice — not only mimicking an individual tooth, but emerging from the gum line and blending indistinguishably with other teeth in color and symmetry.
To achieve this result, we must consider a few factors beforehand, particularly the amount of bone available at the intended implant site. An implant requires a certain amount of bone to properly position it for the most natural crown appearance. The bone present around adjacent teeth can also affect your appearance: in the absence of adequate bone the papillae, triangular shaped gum tissue between teeth, may not regenerate properly between the implant and the natural teeth. This can leave a noticeable void, what dentists call "black hole disease."
Bone loss is a significant problem particularly after tooth loss. It's quite possible for you to lose a quarter of the bone's width in the first year after tooth loss. To avoid this, we often use bone grafting techniques immediately after extraction to lessen bone loss; if it's already occurred we may be able to use similar reconstructive techniques to rebuild and encourage renewed bone growth. In the end, though, if there remains a significant level of bone loss it may be necessary to consider another option for tooth replacement other than implants.
The thickness of your gum tissue, a genetic trait, can also have an impact on the implant's ultimate appearance. Thicker gum tissues are generally more resilient and easier to work with surgically. Thinner gum tissues are more susceptible to recession and tend to be more translucent, which could cause the underlying metal implant to be visible. Thus, working with thinner gum tissues requires a more delicate approach when trying to achieve a visually appealing result.
All these factors must be balanced, from implantation to final crown placement. But with careful planning and attention to detail throughout the process, many of these issues can be overcome to produce a satisfying result — a new and appealing smile.
If you would like more information on the aesthetics of dental implants, please contact us or schedule an appointment for a consultation. You can also learn more about this topic by reading the Dear Doctor magazine article "Matching Teeth & Implants."